Menstrual cycle ovulation calculator
days cycle. Last period date: September 25
Use the free ovulation calendar above as a guide to help you track your ovulation. Some people also refer to this as an ovulation calculator or a Due Date Calculator. Remember this is just an average of days that ovulation could take place—every woman's cycle is different.
About This Calculator
This ovulation calendar / calculator can help you work out when will be the most fertile time of the month (ovulation). Using the calculator combined with the calendar may increase your chances of getting pregnant faster. It can not predict exactly your ovulation day but, by using it, you will know your next fertile periods and so, get pregnant faster. Please, input at least the first day of your last period in the form below. If know the average length of your menstrual cycle you will get a more accurate prediction. Note: any online ovulation calculator will give you a rough idea of your ovulation day.
Understanding Ovulation
For most women, ovulation occurs approximately 14 days before the start of your next menstrual period. Knowing when you ovulate will help you time intercourse increasing your chances of getting pregnant. Before proceeding, there are a few things to keep in mind when using this ovulation calendar:
Cycle lengths of more than 34 days are too long for precise calculations.
Cycle lengths of less than 22 days are too short for precise calculations.
Our calendar cannot be used to reliably prevent pregnancy.
The window of conception is about only a 12 to 24 hour period.
Understanding Ovulation is the key to conception. All couples want to know when is the best time to have sex in order to get pregnant. This is the time frame where a woman can conceive. So how do you discover your window of conception? The key to this answer is ovulation. When you understand your ovulation cycle, you can target the optimal interval for conception. So, you need to learn the basics of ovulation.
Read more about ovulation here in this e-book (pdf): The essential guide to getting pregnant.
Ovulation Calendar and Calculator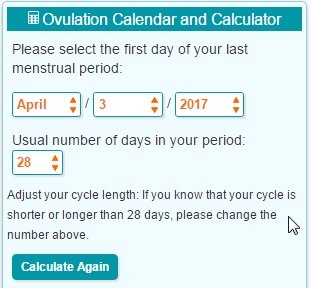 Please link to this page! Just right click on the above image, choose copy link address, then past it in your HTML.