Primes numbers between generator
Use this prime numbers generator to get the list of prime numbers between two specified numbers or interval.
What is a prime number?
A prime number is an integer greater than one which is divided by one and itself. For example, the only divisors of 7 are 1 and 7, so 7 is a prime number, while the number 27 has divisors 3, 9 and 27 itself (27 = 3•9), making 27 not a prime number.
Prime numbers calculator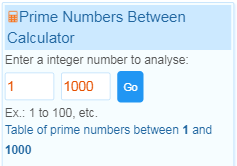 Please link to this page! Just right click on the above image, choose copy link address, then past it in your HTML.