321 by 49
Here is the answer to questions like: 321 by 49 or long division with reminders: 321/49.?
This calculator shows all the work and steps for long division. You just need to enter the dividend and divisor values. The answer will be detailed below.
Long Division Calculator with Remainders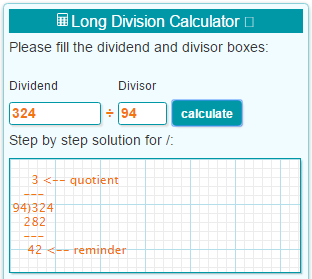 Please link to this page! Just right click on the above image, choose copy link address, then past it in your HTML.
Example of Long Divisions